Venue:
Arena Monbat
3 Lipnik Blvd.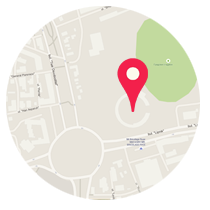 Conditions
Level of the tournament: wdsf world open latina, wdsf international open standart
Organizers: Ruse Municipality, Municipal Youth Center, Bulgarian Dance Sport Federation,
DSC "Nastroenie" Ruse –www.danceclub-nastroenie.com
The date of event: the 24th-25th of November 2018
Rules: Youth dance couples can participate in the tournament as adults.
Coordinates for online registration: http://www.register.dancesportbg.com/entry/ruse2018.php
Dress: WDSF Rules
Fee for the participation in tournament:
Juveniles,Juniors &Basic groups - € 30 for one discipline; € 40 for two.
Youth & Adults - € 40 for one discipline; € 50 for two.
For Bulgarion competition - 25 BGN for E,D,C; for B and A - 20 BGN for one discipline,30 BGN for two.
Prizes
For all finalists - cups, medals and souvenir prizes.
For WDSF World Open LA, and WDSF International Open ST finalists and money prizes according to the rules of WDSF.
The tournament organizers provide accommodation with breakfast in a three star hotel from the 23th to the 25th of November inclusive for 10 dance pairs of top 50 world ranking list.
NOTE: Accommodation will be provided to the first 10 pairs of top 50 to make a reservation request to: i_despotov@abv.bg
Recommends for your trip: Flight to Bucharest. We are ready to ensure FREE transport from Bucharest airport to Ruse and back, because our city is only 60 km far away from Bucharest airport.

About the organization: If you fly to Bucharest, we ask for information about the date, time of arrival and departure,destination and the number of your flight.


WARNING!
All who wish to use the supplied free transfer from/to Airport Otopeni - Bucharest to Ruse within November 01 have to send information about the date and time of their arrival and departure and the number of your flight, at the following e-mail address: i_despotov@abv.bg
Those who do not, will not be able to rely on a free transfer.
After November 05 on the website of the tournament will be announced the schedule and point of departure of the shuttles from Otopeni Airport in Bucharest and from Rousse to Bucharest, which will be tailored to your preorders made on time.

PLEASE DO NOT MISS TO DO YOURS APPLICATIONS TO BE WELCOMED AND SENT.
Information about accommodation will receive later on:
If you have any questions, please contact:
Vladimir Despotov /Tournament Director/- gsm: +359 894 650 799; e-mail:reservations@interlos.net /speaks excellent English and Russian/
Ivan Despotov /chief organizer/- gsm: +359 887 749 580, 359 896 980 575; e-mail:i_despotov@abv.bg /speaks excellent Russian and some English/
SCHEDULE LIST Transfer
Whoever has not requested a free transfer from / to the competition until 23.11.18, can order a paid transfer at the preferential prices indicated on the website at - loradespotova@yahoo.com.
Please all requested free transfer in time to find their names on the Departure and Arrival Lists!
All departures will be from the hotel "Dunav Plaza". All arrivals will be at hotel "Dunav".
If someone is not satisfied with the schedule of free group transfers or has not stated in time, please order an individual transfer to loradespotova@yahoo.com or +359879560666.
Please, after receiving your luggage go to arrivals terminal. Thirty minutes before your scheduled transfer time, look for a person with a WDSF WORLD OPEN RUSE sign. He will meet you and take you to the bus.
Schedule list arrivals
---
23.11.2018 20:45h OTOPENI - ROUSSE 38 pax
| Name | Nat | Date of arrival | Time of arrival |
| --- | --- | --- | --- |
| Ilia Dobrev, Ana Mesec Marko, Boyana Mesec | It | 23.11 | 18:25 |
| Tenore Alessandro and De Biase Elena | It | 23.11 | 18:00 |
| Spagnolo Francesco and Scaravelli Greta +1 person | It | 23.11 | 18:00 |
| Angela Caruso eNicolo Lazzarini | It | 23.11 | 19:10 |
| Partizia Adornetto, Antonio Castorina, Gala Mariapia Castorina | It | 23.11 | 18:55 |
| Jakub Minarovic, Jana Sekova | Au | 23.11 | 20:10 |
| Alessandro Napoli, Roberta Lizzio | It | 23.11 | 18:55 |
| Александра Колдан и партньор | Ru | 23.11 | 19:10 |
| Vilmante Čekanauskaite and Michael Roncaglia | It | 23.11 | 19:10 |
| Нестеров Виталий и Юдина Ирина, Коновалов Павел - Чепуштанова Анастасия | Ru | 23.11 | 19:55 |
| Tomas Tanka, Karolin Omastova, Dominik Drabik | Au | 23.11 | 17:50 |
| Marek Bureš, Anastasiia Iermolenko | Au | 23.11 | 17:50 |
| Filip Chmel - Stepanka Dunajova | Au | 23.11 | 17:50 |
| Rannar Edovald and Mari-Liis Mets | - | 23.11 | 15:30 |
| Shon Burshteyn and Erica di Maria | - | 23.11 | 15:55 |
| Eric Testa,Federica Brezzo | - | 23.11 | 15:55 |
---
23.11.2018 12:00h OTOPENI – ROUSSE – 18 pax
| Name | Nat | Date of arrival | Time of arrival |
| --- | --- | --- | --- |
| Nicola lonardi | - | 23.11 | 11:30 |
| Sabrina Manuzzi | - | 23.11 | 09:35 |
| Evgeni Gavrilov | - | 23.11 | 11:25 |
| Vano Kandelaki | - | 23.11 | 10:15 |
| Genadi Oseshniuk | - | 23.11 | 11:25 |
| Emanuele Nucciotti, Natascia Scocchi +1 person | Ireland | 23.11 | 09:35 |
| Andrea Bolzoni, Mishel Maritan | It | 23.11 | 11:30 |
| Andrea Civita and Eleonora de Mitri | It | 23.11 | 11:30 |
| Nikolay Levchenkov, Marina Fritcler | Ru | 23.11 | 10:25 |
| Filip Grishin, Anastasia Bondareva | Ru | 23.11 | 10:25 |
| Mikhail Koptev, Aleksandra Atamantseva | - | 23.11 | 11:30 |
---
23.11.2018 16:20h Individual Transfer – 4pax
| Name | Nat | Date of arrival | Time of arrival |
| --- | --- | --- | --- |
| Asis Khadjeh-Nouri | - | 23.11 | 14:45 |
| Piotr Zamorski | - | 23.11 | 14:45 |
| Mark Spektor & Tabea Louisa Thaler | It | 23.11 | 14:45 |
---
23.11.2018 15:20h OTOPENI – ROUSSE 22 Pax
| Name | Date of arrival | Time of arrival |
| --- | --- | --- |
| Cor van der Stroet | 23.11 | 13:05 |
| Ojars Basic +2 per. | 23.11 | 14:00 |
| Ivo Kappet +2 per. | 23.11 | 14:45 |
| Marat Yarulin | 23.11 | 14:00 |
| Luis Vanio | 23.11 | 14:00 |
| Jose Gomes +2 per. | 23.11 | 14:00 |
| Alexander Tinkelman | 23.11 | 13:55 |
| Liana Odikadze, Alexey Korobchenko | 23.11 | 13:15 |
| Ron Brener, Michal Itelman | 23.11 | 13:15 |
| Rafael Ilievski, Emmi Brener, Victorya Tinkelman | 23.11 | 13:15 |
| Mikael Tatrkin +1 per. | 23.11 | 14:00 |
---
23.11.2018 23:55h OTOPENI – ROUSSE – 2 pax paid transfer
| Name | Date of arrival | Time of arrival |
| --- | --- | --- |
| Иван Гориванов и парньорка | 23.11 | 23:25 |
---
23.11.2018 00:15h OTOPENI – ROUSSE – 6 pax
| Name | Nat | Date of arrival | Time of arrival |
| --- | --- | --- | --- |
| Irene López moreno, Daniel Ramos chamizo, María Márquez simancas, David Morante García, Inés Ferrero Oliver | Spain | 23.11 | 23:45 |
---
24.11.2018 10:00h OTOPENI – ROUSSE – 2 pax
| Name | Nat | Date of arrival | Time of arrival |
| --- | --- | --- | --- |
| Camilla Di Trani and Simone Gallinella | It | 24.11 | 09:35 |
---
24.11.2018 12:30h OTOPENI – ROUSSE – 12 pax
| Name | Nat | Date of arrival | Time of arrival |
| --- | --- | --- | --- |
| Oleksandr Mazur and Marina Demina | Ru | 24.11 | 11:30 |
| Valerio POSTINI and Francesca BERETTA +4 per | It | 24.11 | 11:30 |
| Matteo Scotto Di Porta & Samanta Salatin | It | 24.11 | 12:00 |
| Manuel guidotti & Francesca desirèe Riggi | It | 24.11 | 09:35 |
---
24.11.2018 14:45h Individual Transfer 5 pax
| Name | Nat | Date of arrival | Time of arrival |
| --- | --- | --- | --- |
| Olle Viltok and Karoliina Smiltinš | Estonia | 24.11. | 14:15 |
| Gabriel Lifshits, Sharon Nerst, Marika Odikadze | Israel | 24.11. | 13:15 |
---
24.11.2018 23:10h OTOPENI – ROUSSE 9 pax
| Name | Nat | Date of arrival | Time of arrival |
| --- | --- | --- | --- |
| Li Lin and Giullia Giacoppo | It | 24.11. | 22:05 |
| Carmine Petrillo and Marzia Bonilauri +1 person | It | 24.11. | 22:05 |
| Emanuele Massacci, Carlotta Brancozzi | It | 24.11. | 22:05 |
| Kostadin Vasilev i Roberta Scuderi | It | 24.11. | 22:40 |
Schedule list departures
---
25.11.2018 02:45h ROUSSE – OTOPENI – 4 pax
| Name | Date depp | Hour depp |
| --- | --- | --- |
| Liana Odikadze, Alexey Korobchenko | 25.11. | 06:45 |
| Rannar Edovald and Mari-Liis Mets | 25.11. | 09:30 |
---
25.11.2018 14:25h ROUSSE – OTOPENI – 5 pax
| Name | Date depp | Hour depp |
| --- | --- | --- |
| Tenore Alessandro and De Biase Elena | 25.11. | 18:25 |
| Spagnolo Francesco and Scaravelli Greta +1 person | 25.11. | 18:25 |
---
25.11.2018 17:30h ROUSSE – OTOPENI – 5 pax
| Name | Date depp | Hour depp |
| --- | --- | --- |
| Emanuele Nucciotti, Natascia Scocchi +1 person | 25.11. | 21:50 |
| Camilla Di Trani and Simone Gallinella | 25.11. | 21:50 |
---
25.11.2018 06:00h ROUSSE – OTOPENI – 8 pax
| Name | Date depp | Hour depp |
| --- | --- | --- |
| Andrea Bolzoni, Mishel Maritan | 25.11. | 10:15 |
| Andrea Civita and Eleonora de Mitri | 25.11. | 10:55 |
| Нестеров Виталий и Юдина Ирина | 25.11. | 09:55 |
| Shon Burshteyn and Erica di Maria | 25.11. | 13:15 |
---
25.11.2018 10:00h ROUSSE – OTOPENI – 23 pax
| Name | Date depp | Hour depp |
| --- | --- | --- |
| Angela Caruso eNicolo Lazzarini | 25.11. | 14:15 |
| Partizia Adornetto, Antonio Castorina, Gala Mariapia Castorina | 25.11. | 13:45 |
| Irene López moreno, Daniel Ramos chamizo, María Márquez simancas, David Morante García, Inés Ferrero Oliver | 25.11. | 15:20 |
| Alessandro Napoli, Roberta Lizzio | 25.11. | 13:45 |
| Vilmante Čekanauskaite and Michael Roncaglia | 25.11. | 14:10 |
| Lorenzo Molitierno - Yana Koroleva | 25.11. | 14:00 |
| Mikael Tatarkin +1 person | 25.11. | 14:35 |
| Tomas Tanka, Karolin Omastova, Dominik Drabik | 25.11. | 13:35 |
| Mark Spektor & Tabea Louisa Thaler | 26.11. | 15:20 |
---
25.11.2018 11:30h ROUSSE – OTOPENI – 4 pax
| | | |
| --- | --- | --- |
| Eric Testa, Federica Brezzo | 25.11. | 16:20 |
| Александра Колдан и партньор | 25.11. | 15:30 |
---
26.11.2018 02:15h ROUSSE – OTOPENI – 23 pax
| Name | Date depp | Hour depp |
| --- | --- | --- |
| Jose Gomes +2 per. | 26.11. | 06:25 |
| Carmine Petrillo and Marzia Bonilauri +1 person | 26.11. | 06:15 |
| Nicola Ionardi | 26.11. | 06:15 |
| Alexander Tinkelman | 26.11. | 07:45 |
| Ilia Dobrev, Ana Mesec Marko, Boyana Mesec +1 per. | 26.11. | 07:10 |
| Valerio POSTINI and Francesca BERETTA +2 per. | 26.11. | 06:15 |
| Коновалов Павел - Чепуштанова Анастасия | 26.11. | 09:10 |
| Rafael Ilievski, Emmi Brener, Victorya Tinkelman | 26.11. | 06:45 |
| Gabriel Lifshits, Sharon Nerst, Marika Odikadze | 26.11. | 06:45 |
---
26.11.2018 05:00h from Danube Hotel – 12 pax
| Name | Date depp | Hour depp |
| --- | --- | --- |
| Sabrina Manuzzi | 26.11. | 10:00 |
| Ron Brener, Michal Itelman | 26.11. | 09:25 |
| Emanuele Massacci, Carlotta Brancozzi | 26.11. | 10:10 |
| Manuel Guidotti & Francesca Desirèe Riggi | 26.11. | 10:00 |
| Коновалов Павел - Чепуштанова Анастасия | 26.11. | 09:10 |
| Ivo Kappet +2 per. | 26.11. | 08:25 |
---
26.11.2018 07:10h ROUSSE – OTOPENI – 11 pax
| Name | Date depp | Hour depp |
| --- | --- | --- |
| Jakub Minarovic, Jana Sekova | 26.11. | 11:10 |
| Oleksandr Mazur and Marina Demina | 26.11. | 12:25 |
| Genadi Oseshniuk | 26.11. | 12:30 |
| Evgeni Gavrilov | 26.11. | 12:30 |
| Cor van der Stroet | 26.11. | 13:45 |
| Marek Bureš, Anastasiia Iermolenko | 26.11. | 11:10 |
| Filip Chmel - Stepanka Dunajova | 26.11. | 11:10 |
---
26.11.2018 10:00h ROUSSE – OTOPENI – 15 pax
| Name | Date depp | Hour depp |
| --- | --- | --- |
| Li Lin and Giullia Giacoppo | 26.11. | 14:15 |
| Nikolay Levchenkov, Marina Fritcler | 26.11. | 17:05 |
| Filip Grishin, Anastasia Bondareva | 26.11. | 16:45 |
| Ojars Basic +2 per. | 26.11. | 14:20 |
| Marat Yarulin | 26.11. | 14:20 |
| Luis Vanio | 26.11. | 14:20 |
| Asis Khadjeh-Nouri | 26.11. | 15:20 |
| Piotr Zamorski | 26.11. | 15:20 |
---
26.11.2018 13:45h ROUSSE – OTOPENI – 3 pax
| Name | Date depp | Hour depp |
| --- | --- | --- |
| Olle Viltok and Karoliina Smiltinš | 26.11. | 18:00 |
| Vano Kandelaki | 26.11. | 19:20 |